RF over Fiber Antenna Extender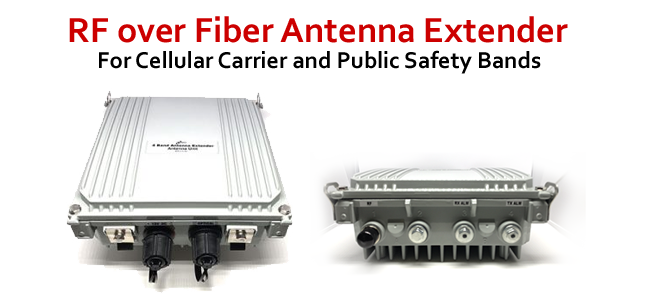 Sometimes it is impractical to get coax from a donor antenna to the signal booster. Either the run is too long, or the path is too difficult. Optical Zonu has solved that problem with our Antenna Extender Kit. The kit provides a 'loss-less' bi-directional RF-Over-Fiber connection directly between the donor antenna and the BDA.
Two versions are currently available:
Commercial Cellular: 700/Cell/PCS/AWS with an option to include WCS
Public Safety Wireless: 700/800 MHz, including FirstNet Band 14
The Antenna Extender Kit has two components. The Antenna Unit is connected to the donor antenna. It can be powered locally by a 12 VDC power converter, or the power can be supplied remotely. The unit can be mounted indoors or outdoors near the antenna. Connection to the antenna is N-type. Using WDM, one single-mode fibre is connected to the Equipment Unit which is connected to the Signal Booster. This unit is also powered by 12 VDC converter. The RF connection to the indoor equipment is via N-type connector.
Optional support for multi-mode fibre (two fibres required).
Typical installation: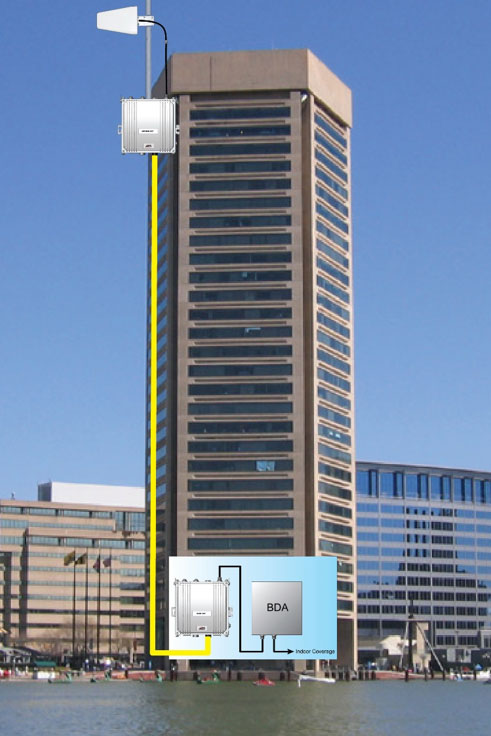 ---
This category is empty! Please try another category or use our search function to find what you are looking for. If you require further assistance please contact us.