OZ Maritime VSAT RF over Fiber Link (bidirectional)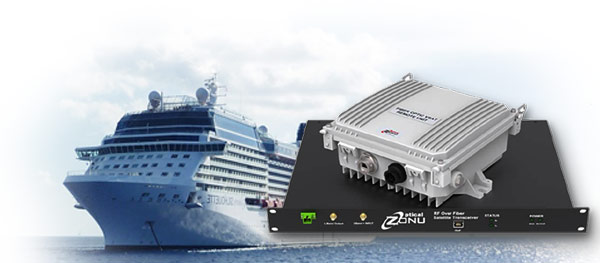 The OZ Maritime VSAT Link is the first RF over Fiber link especially made for the harsh conditions of maritime deployment and for popular VSAT antenna systems. It enables high-performance, very long distance L-band video/voice/data communications and antenna control transmission over single optical fibre.
This L Band Satcom Fiber Transport Link provides a simple, cost-effective and reliable RF connection between your satellite antenna and modem in those instances where coaxial cable is impractical.
The OZ Maritime VSAT Link is the most complete solution in the market and provides full-duplex GbE data links, Full Duplexed L-band RF Satellite signals and as well as low phase noise 10MHz clock distribution for LNB and BUC all via SINGLE strand of fibre. These connect a vessel's below-deck Satellite Modem and Antenna Control Unit (ACU) to an above-deck antenna system, which often includes a Pedestal Control Unit (PCU) for monitoring, stabilization, and tracking of an antenna against a ship's roll, pitch, and turning motions. Upon the request of a major system integrator's discerning customers (e.g. military), Optical Zonu designed these fibre optic links to be easy-to-install and to overcome the bandwidth and distance problems of traditional coaxial links.
Ruggedized Chassis
Approx Size (per chassis): 19 x 8 x 1.75″
25MHz to 2.7GHz Bandwidth
10Mhz Gain; 0 dB, Low phase noise 10MHz clock
Noise floor (NF): Nominal 25dB
SFDR 110, 2/3dBm-Hz
L-band gain: 15dB
Gain adjustment: 30dB
High Spurious Free Dynamic Range (SFDR): 110, 2/3dBm-Hz
0C to +65C Operating Temperature
Two bidirectional full duplexed data channel via two external FSK modem.
VSAT
TVRO
Shipboard Communications
Fixed and Mobile Satellite Station
OEM SatCom Equipment
Distance Learning
Disaster Recovery
Oil & Gas Platforms
---
This category is empty! Please try another category or use our search function to find what you are looking for. If you require further assistance please contact us.