L-S Band Satcom Fibre Transport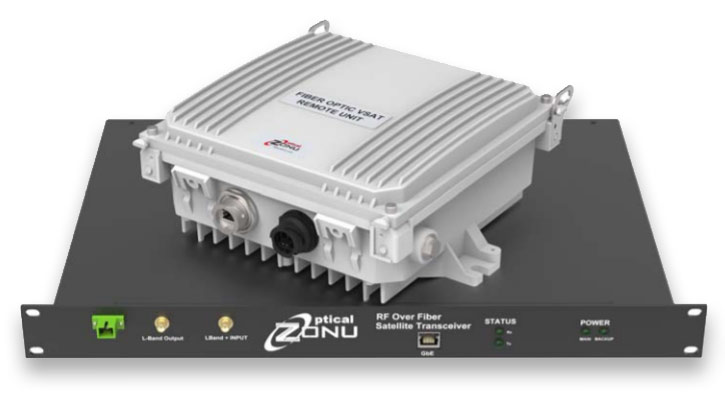 The L/S Band Satcom Fiber Transport Link by Optical Zonu provides a simple, cost-effective and reliable RF connection between your satellite antenna and modem in those instances where coaxial cable is impractical or additional security is required. Each fibre link supports all frequencies from 950 MHz to 2300 MHz. The high dynamic range of the system ensures a transparent pass through with no distortion. A low noise pre-amplifier in the downlink path ensures a margin on signal-to-noise ratio while keeping the signal in the most linear operating range of the fibre optic link.
For Tx/Rx sites, the low phase noise 10 MHz reference can be included without any impact on the L/S band performance. Other fibre optic products that combine the 10 MHz reference with the primary signal either cause degradation of the primary through mixing or poor phase noise if the reference level is too low. The Optical Zonu L/S Band Satcom Fiber Transport Link utilizes a 4 channel Coarse Wave Division Multiplexer (CWDM) to ensure that there is no mixing among all the supported signals, guaranteeing the highest signal purity. The system is modular and can be configured for Transmit/Receive or Receive Only with options for a 10 MHz Reference Signal, DC Power for the LNB and an FSK or E-Net data connection between the sites.
Major Features and Benefits
L/S Band Fiber Optic Link Between the Satellite Modem And ODU
IP-67 Remote Unit Connects to ODU
Modular, Rack-Mounted Master Unit
Transmit/Receive or Receive Only
Separate Optional 10 MHz Path – No Mixing, Lowest Phase Noise
Optional DC Power to LNB
Optional Ethernet or FSK Data Connection Between Sites
---
This category is empty! Please try another category or use our search function to find what you are looking for. If you require further assistance please contact us.