Iridium over Fiber Transport System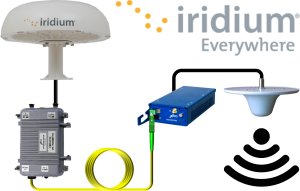 The Iridium satellite network provides voice and data service to the entire planet. However, phones and network equipment will not function unless the antennas have a clear view of the sky. The Optical Zonu Iridium fibre extender system allows this equipment to function indoors, regardless of the distance from an outdoor antenna. These systems are perfect for difficult installations such as bunkers, large buildings, and large vessels. RF over fibre systems can function for several miles when used with single-mode cable, and provide a transparent link for Iridium communication equipment. Once the signal is transported across the fibre link, it can be rebroadcast through indoor antennas or connected directly to Iridium receivers.
The Iridium fibre link kit contains both an outdoor antenna unit and an indoor antenna system. The outdoor unit is weatherproof with an IP-67 rating, allowing it to be installed in harsh environments directly next to an outdoor antenna. The indoor system can be either a single slot J-Chassis suitable for desktop or wall mount use; or a 19 in rack enclosure. The rack mount options can be configured to support multiple channels. Other options include remote monitoring and configuration through the J-Chassis USB port, or contact closure alarm through the OZ9000 chassis.
In addition to Iridium satellite service, Zonu provides equipment that can be used to transport other signals from antenna locations such as GPS, Satellite TV, or cell phone service. Flexible chassis systems can be custom ordered for specific applications or installations. Both single fibre or multi fibre solutions are available. The outdoor systems can be configured to provide power to active antennas through a flexible bias T. Frequency ranges are available for response up to 6 GHz, contact a sales representative for more information.
---
This category is empty! Please try another category or use our search function to find what you are looking for. If you require further assistance please contact us.