Quality Commitment


"Rojone Pty Ltd is committed to complying with the latest in industry standards."
ISO 9001:2015

Rojone is ISO 9001:2015 certified. These quality management standards, maintained by the International Organization of Standardization (ISO), provide a number of business process requirements for consistent product manufacturing and delivery to meet customers' expectations.
Scope:
"The provision of the manufacture, sale, distribution and design of radio frequency and telecommunication components"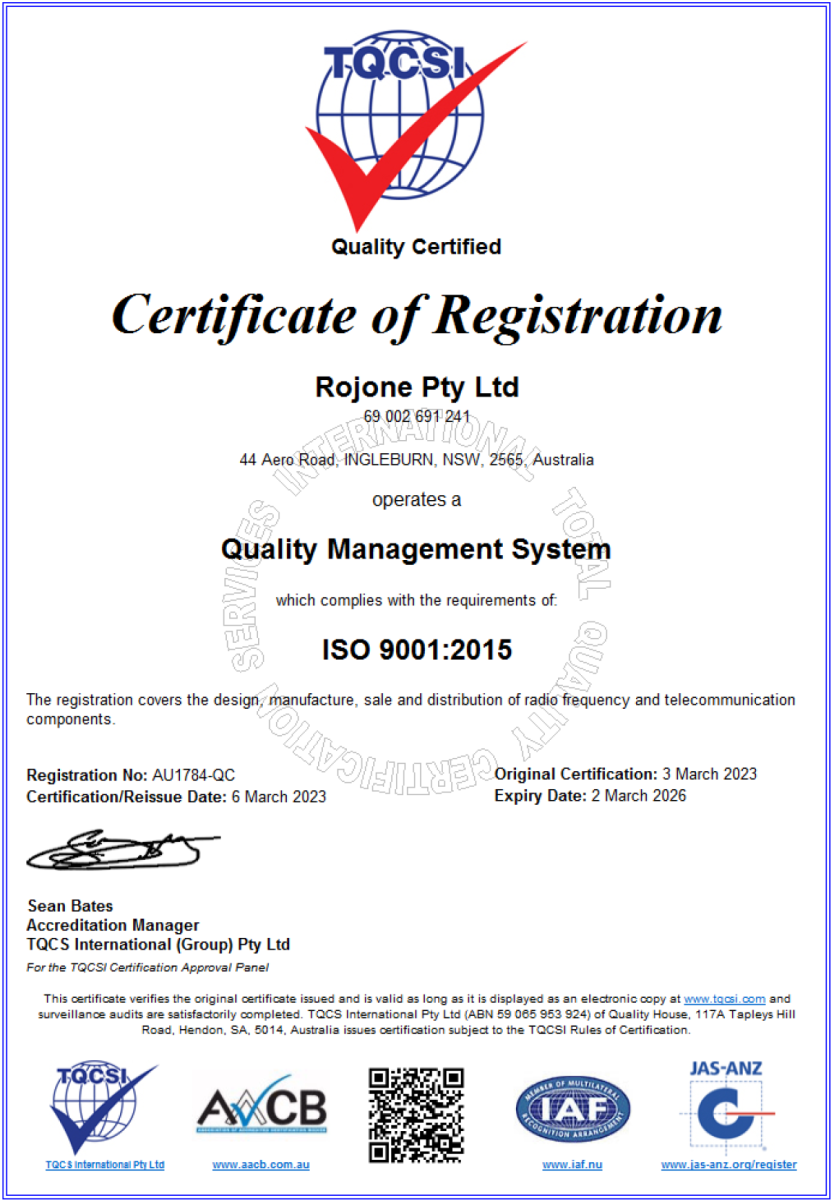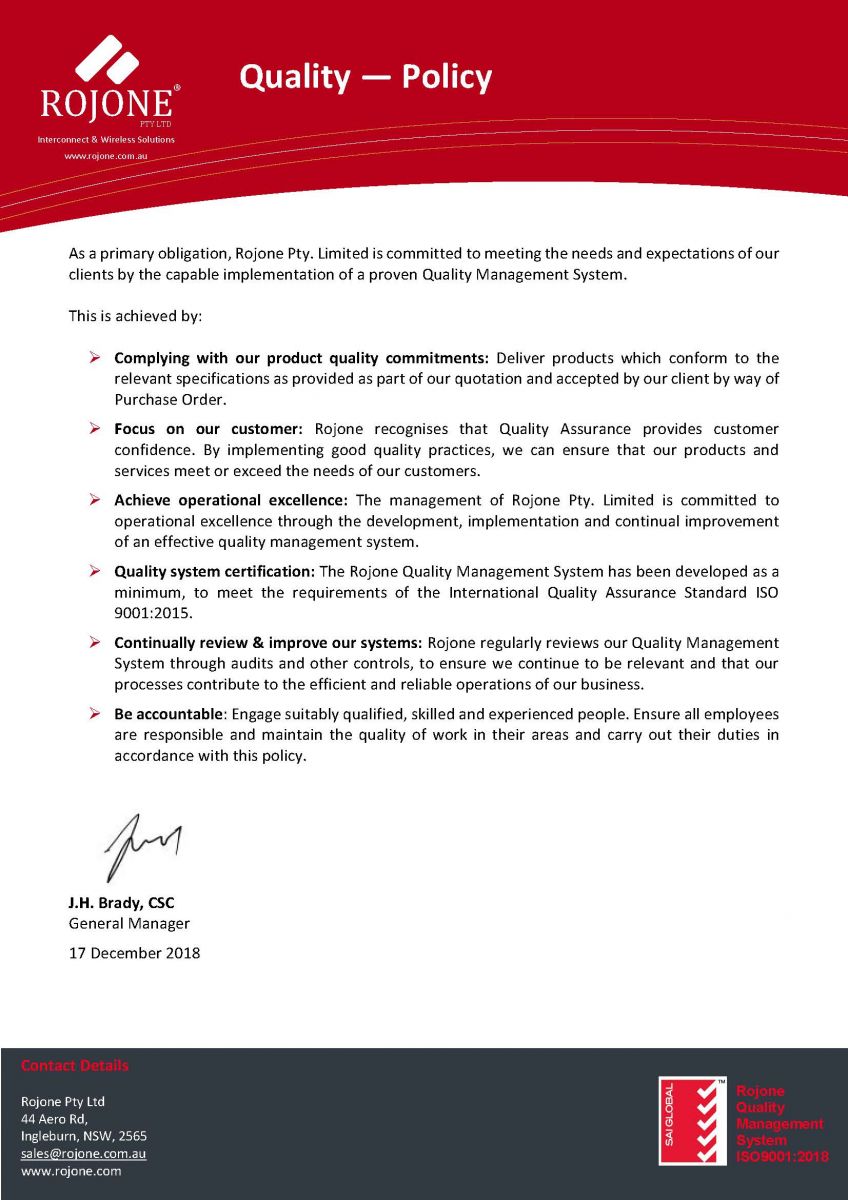 Quality Policy
Rojone is committed to providing our customers high-quality products, superior service, and world-class technical support. We will continually monitor and improve our systems and processes to ensure our products and services meet or exceed all defined requirements from customers, statutory or regulatory associations. All Rojone Employees are dedicated to these principles and strive to continually improve the effectiveness of the Quality Management System to achieve total customer satisfaction.
RoHs Reach
Restriction of Hazardous Substances Directive (RoHS) restricts the use of hazardous substances in electrical and electronic equipment in European Union markets. The directive bans equipment containing more than agreed levels of lead, cadmium, mercury, hexavalent chromium, and polybrominated biphenyl (PBB) and polybrominated diphenyl ether (PBDE) flame retardants.
Rojone will provide RoHS and REACH statements for products supplied as required. Statements are avaible by contacting sales@rojone.com.au.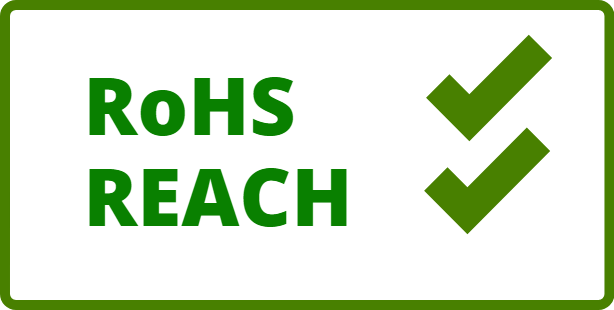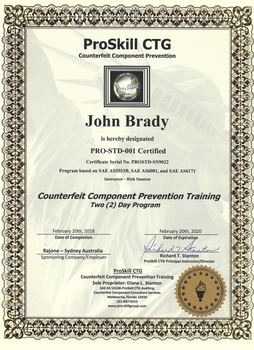 Counterfeit Products
Counterfeit product has become a growing concern in customers' supply chains as customers or distributors secure low-cost alternative sources. Rojone is committed to obtaining only the highest quality products for our customers. Rojone purchases product only through our Authorized Manufacturers and Suppliers, thereby ensuring that the product is new, authentic, and fully warrantable under the direct supplier and that accurate up-to-date technical information is readily available.
Conflict Minerals Statement
Due to violence and human rights violations in the mining of certain minerals from the Democratic Republic of the Congo (DRC), and surrounding countries, the U.S. Securities and Exchange Commission (SEC) has implemented reporting and disclosure requirements for Conflict Minerals, as directed by the Dodd-Frank Wall Street Reform and Consumer Protection Act of 2010.
Rojone is not required to report to the SEC as we are a privately held small business. SBC will provide a completed Conflict Minerals Reporting Template. We are committed to the sourcing of "Conflict Free Minerals" through our suppliers to comply with the SEC rules and regulations with Conflict Minerals.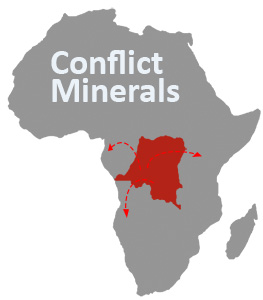 IPC Membership
Rojone is a member of the IPC Organisation, membership to IPC ensures we are kept current with latest industry standards for Cable and Wiring Harnesses. Rojone has it is own in-house IPC trainer and is committed to certifying all its employees. As a member of the IPC organisation, we are committed to producing products to this standard.
The IPC-620 standard describes materials, methods, tests and acceptability criteria for producing crimped, mechanically secured and soldered interconnections, and the related assembly activities (corresponding lacing/restraining criteria) associated with cable and harness assemblies.
Letter of Recognised Supply
The Letter of Recognised Supply (LoRS) Program is designed to promote Australian industry capabilities by acknowledging the successful supply of products or services to Defence by an Australian company.
To receive the LoRS Rojone needed to meet the standards of supply demanded by the Australian Defence Organisation (ADO). Products and services need to be supplied on time, on budget and to specification.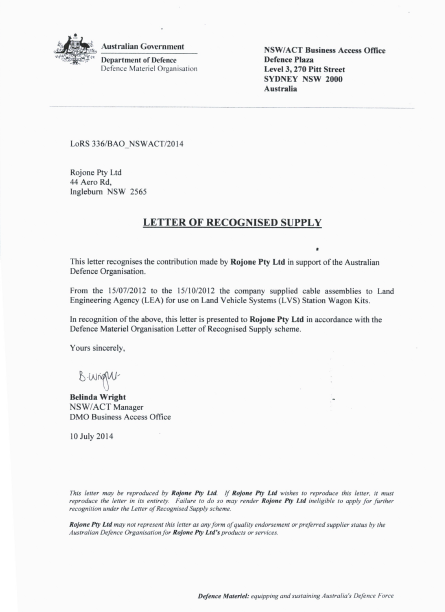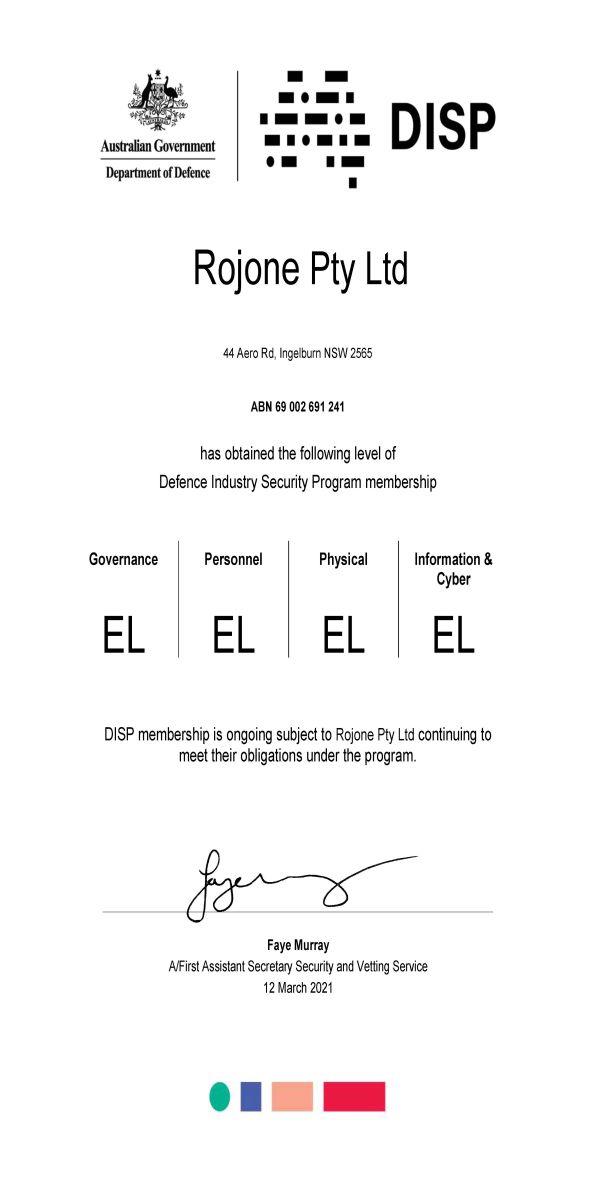 DISP Membership
Rojone has been awarded membership into the Defence Industry Security Program (DISP). This program is managed by the Defence Industry Security Office (DISO) and demonstrates the company's commitment to our military customers at the Government, Prime and SME levels.
To obtain membership to the DISP program, Rojone was assessed across four key areas:
Governance
Personnel Security
Physical Security
Information & Cyber Security