Nexsus Technologies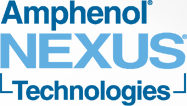 Nexus, Inc. was founded in 1961 to perfect the design and manufacture of superior quality audio plugs, jacks and MIL-S-8805/3 push-button switches. Over the years, the product base has expanded to include a miniature line of connectors. In 2008, Amphenol purchased Nexus, Inc. and formed Amphenol Nexus Technologies offering worldwide sales support, while still maintaining Nexus' strong commitment to customer support and development.
Since 1961, Amphenol Nexus Technologies connectors have become the standard in the military and commercial communication headset markets. Today, Amphenol Nexus Technologies connectors are typically specified in OEM headset applications where "breakaway-style" audio connectors are required. Amphenol Nexus Technologies switches have a very strong, 'tactile-feedback' feature that makes them ideal for applications that require a positive means of knowing that the switch has actuated. In addition, Amphenol Nexus Technologies switches are designed for applications that require a durable, reliable and cost-effective switching means. Other applications of Amphenol Nexus Technologies audio connectors and pushbutton switches are in Auto Racing, Powerboat Racing, Telecommunications, Simulation Controls, Medical Products, Farm Equipment, and Commercial Aviation Electronics.
Amphenol Nexus Technologies is an ISO 9001:2008 facility that meets or exceeds the requirements of MIL-I-45208, MIL-Q-9858, MIL-STD-45662, and the sampling requirements of MIL-STD-105. We also use SPC to selectively monitor critical processes, which helps ensure process capability. We are currently on the U.S. Government's QPL (Qualified Products List) for the following military specifications: MIL-C-9177, MIL-C-55116, and MIL-S-8805/3. All at Amphenol Nexus Technologies look forward to serving you with products that meet your satisfaction. Please contact us today to discuss your requirements.
---